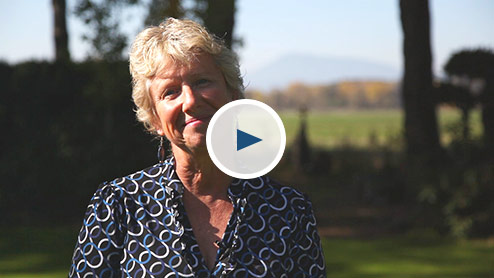 Welcome, from Donna Keim, VP of Operations
---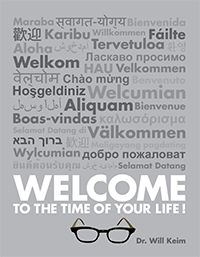 Dr. Will Keim's new book, Welcome To The Time Of Your Life! will be available January 30th. Dr. Keim and a dozen of his hand-picked mentors, proteges, and friends have written 21 Lessons For The 21st Century. QR coding brings the book to life with Dr. Keim highlighting the key points of each chapter in video segments. Welcome is the perfect guide for college bound high school students, first year college and university students, their parents and guardians, and teachers and professors seeking to educate and mentor the nation's next generation of leaders. The book is available in print or online with group purchases and summer reading or first year class discounts available. Welcome To The Time Of Your Life! is informative, inspiring, and focused on creating a generation of character driven decision makers. Check it out today!
"It is my hope that this book will help students seeking to make the most of college so that they can make the most of their lives. Welcome To The Time Of Your Life! will provide key lessons needed to help them successfully change the world for the better. I am living proof of the power of Will's work."
Walter Kimbrough, Ph.D.
President of Dillard University, New Orleans, LA
---
"PROMOTING THE DEVELOPMENT OF
LEADERSHIP
THROUGH THE EDUCATION OF
CHARACTER"
---
Featured Book

Welcome to the Time of Your Life! 21 Lessons for the 21st Century
Learn more about Dr. Keim's new book about the orientation, education, inspiration, retention, and graduation of college-bound and new students. The book presents 21 Lessons for The 21st Century and is available for individual use for students and parents, first year course adoption, or collegiate summer reading programs.
Learn More
Will Keim Speaks!
Dr. Will Keim has spoken to over two and a half million students, faculty, and professional staff from 2,500 collegiate and corporate campuses in all 50 states in The United States and most provinces in Canada. His corporate clients include AT&T, IBM, Delta Air Lines, State Farm Insurance, Eye Med, Lenscrafters, Luxottica, Swiss Army Brands, The Ford Family Foundation, Holt International, Colorado Springs Fire Department, Oregon Chiefs of Police, and The Anti-Defamation League. He has written or co-authored 14 books. He has been married to Donna Basham Keim for 30 years and has 4 children, two in college and two in high school. "In my family," writes Lindsay Lagreid, VP for Policy and Procedure, Washington State University Panhellenic Council, "we have a phrase for people like Dr. Keim. The Lagreid family would consider him a 'high thread count' individual; high moral fiber per square inch. He is someone who comes into your life, helps you examine your life and make authentic change, and leaves you with the knowledge that you will not be forgotten. He is truly blessed with the gift of communication and has chosen to use that gift to enrich the lives of others and make the world a better place."
IN THE NEWS
---